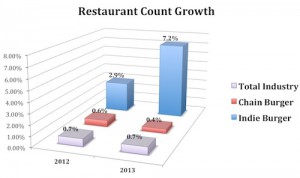 The number of independent burger restaurants continues to increase at a rate faster than those for chain burger units, all quick-service or the total restaurant industry. According to a recent report in Burger Business, the indie burger segment increased 7.2% in the last year, leading all restaurant segments in growth. This year's increase is more than twice the 2.9% growth indie burgers achieved the previous year.NPD-Count-Chart-2014
The fast-casual category continues to grow, although not as fast as indie burger joints. For the year, fast casual showed a 6% increase. The number of quick-service restaurants of all menu types increased 2%. The beleaguered full-service category (encompassing casual dining, midscale/family dining and fine dining) saw a 1% unit decline.
Said Greg Starzynski, NPD Foodservice director of product management, "The restaurant recovery continues to move slowly and as a result operators are taking a cautious approach to expansion. This conservative approach to restaurant unit expansion will continue into the foreseeable future."
NPD conducts a census of restaurant outlets twice each year.