View Our Family Infographic →
---
Mission
Our mission is to source and offer premium meat and seafood to chefs, restaurateurs and distributors while exceeding their expectations by providing exceptional value and impassioned service. By achieving our mission, we will earn loyal customers today, tomorrow and in the future.
---
Facility
Main Facility Reno, Nevada
Our 50,000 square foot, state-of-the-art facility is located in Reno, Nevada. It houses an oversized commercial size freezer and cooler, meat and fish processing rooms, and our main office. We have a full-time USDA inspector on site to ensure we continually meet and exceed the strictest federal food safety guidelines.
Green Initiatives have changed the way we do business for the better.
---
Food Safety
Sierra Meat & Seafood is a leader in food safety.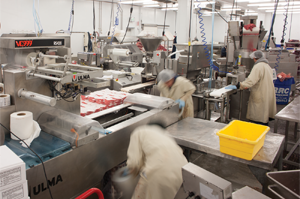 We operate under the strictest of inspections and quality assurances. Learn more about our specific programs here.
---
Safe Quality Food Code
Sierra Meat & Seafood has a Level 2 Certification for SQF. To learn more about those benchmark requirements,